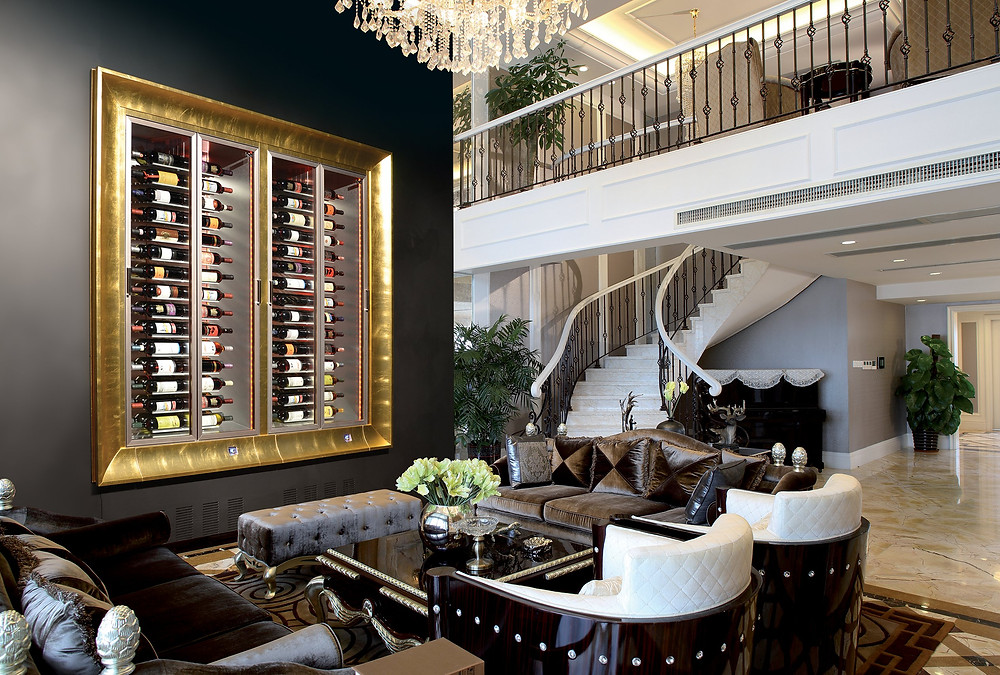 Having watched "Crazy Rich Asians", aren't you already inspired by the ludicrously well designed interiors? And when it comes to the wealthy, wine is as essential as air and it has to stored properly AND beautifully.
Built-In Wine Cellar with Gold Finishings
If any Crazy Rich Asians doesn't already have an impressive walk-in wine cellar, a wine cabinet/cellar that they would approve would probably have the following pointers:
Sleek and seamless aesthetics to match the interiors of an expensive home
One that would store a vast number of bottles for entertainment
Impressively designed and incorporating advanced technology to be a talking point for all guests
Whether it is a passion bordering on obsession or not, wine collection equates preserving wine. With such exquisite taste, the ordinary wine cellars in the stores might not satisfy the needs of the soul. Therefore, customising a wine cellar could be the only other option.
Designing a wine cellar would require the consideration of styles, sizes and designs to suit your needs, be it integrating with your living space or a minimalist design with state-of-the-art technology. We have covered the technology required in a wine cellar in the articles here and here.
At Bodega, we have wine cellars that incorporate cutting edge technology and beyond sleek aesthetics to save you the hassle of delving into the nitty gritty details and yet still provide the "wow" factor.
Let us now explore what would fit seamlessly in the homes of the ultra-high net worth.
Bodega's TECA Built-in series boasts up to 120 bottles for display, whether vertical or horizontal (recommended) depending on your preference. The frame is mounted with a snap-on system and therefore easily replaced for any technical need. Built-in installation and reduced depth make these models suitable even for dining rooms, living rooms and kitchens. With its sliding doors, you do not have to worry about space, but I bet you don't, given that your billion dollar house has sufficient space to fit a rocket.
Then there is Bodega's TECA Freestanding Series, thoughtfully fitted with sliding glass doors on both sides for easy access. This collection features a free standing cabinet fitted with luxurious wooden frames so that it can double as a free standing display / room divider.
For a more intimate option, there's the Bodega's QUADRO VINO series that allows for the display of one to five bottles in a lavish display cube while keeping them at the right temperature. This model features a vertical bottle display option, ideal for service by the glass. This is perfect for the bedroom if you have the tendency to reach for a glass before bed. Furthermore, the colours of the panel and board are customisable to your preference.
If any of the above choices aren't to your refined taste, you are most welcomed to speak with us and we will be more than glad to be in a discussion with you on the customisation of your very own unique wine cellar. Hit us up here