In the realm of high-end homes and luxury living, wine has become more than just a beverage; it is an art form and a symbol of sophistication. For homeowners who appreciate fine wines, having a dedicated and elegant wine storage solution is essential. It not only showcases their collection but also adds a touch of opulence to their living spaces. In this article, we explore exquisite wine storage ideas tailored for high-end homes, ensuring that every bottle is displayed with elegance and preserved in optimal conditions. 
Custom Wine Cellars
Experience the epitome of luxury wine storage with a custom wine cellar from Bodega. Elevate your home with a climate-controlled oasis dedicated to showcasing your wine collection. Our custom wine cellars are meticulously designed to accommodate any space, from intimate nooks to expansive rooms. Crafted with premium materials such as exquisite wood, intricate ironwork, and elegant lighting fixtures, they exude opulence and sophistication. With precise temperature and humidity control, Bodega's custom wine cellars provide the ideal environment for wines to age gracefully while preserving their exceptional quality. Discover the unparalleled craftsmanship and customizable options of Bodega wine cellars for a truly bespoke wine storage solution.
Wall Art Wine Display 
Bodega presents an exceptional collection of wine cellars that double as exquisite wall art wine displays, exemplified by the Quadro Vino series. This innovative design showcases your wine collection in a truly artistic manner, featuring a meticulously crafted wall-mounted unit that seamlessly blends with your existing decor. The sleek frame, available in a variety of finishes, brings a touch of sophistication and contemporary elegance to any space.
What sets the Bodega Wine Cellars apart is their unparalleled versatility. Each display can be fully customized to meet your unique storage requirements. With adjustable racks and shelves, you have the freedom to arrange your bottles according to your preferences and the size of your collection. The transparent glass panels not only allow for a clear view of your wine labels but also provide a protective barrier against harmful UV rays, ensuring the preservation of your cherished bottles.
The Bodega Wine Cellar transcends traditional wine storage solutions, becoming a statement piece that combines functionality with captivating aesthetics. It effortlessly harmonizes with your interior design, transforming your space into an art gallery that celebrates both your wine collection and your discerning taste. With Bodega, you can elevate the presentation of your wines while safeguarding their quality and beauty.
Built-In Wine Cabinets
Built-in wine cabinets provide a harmonious integration of wine storage within the existing cabinetry or walls of a home. These cabinets are meticulously crafted and tailored to match the overall aesthetics, seamlessly blending with the surrounding decor. From compact units integrated into kitchen islands or bars to spacious walk-in designs, built-in wine cabinets offer versatile solutions to suit various space requirements. Bodega's MOD 20 series exemplifies a practical and sophisticated option, featuring adjustable shelves, precise temperature control, and effective insulation to create optimal storage conditions for a wine collection.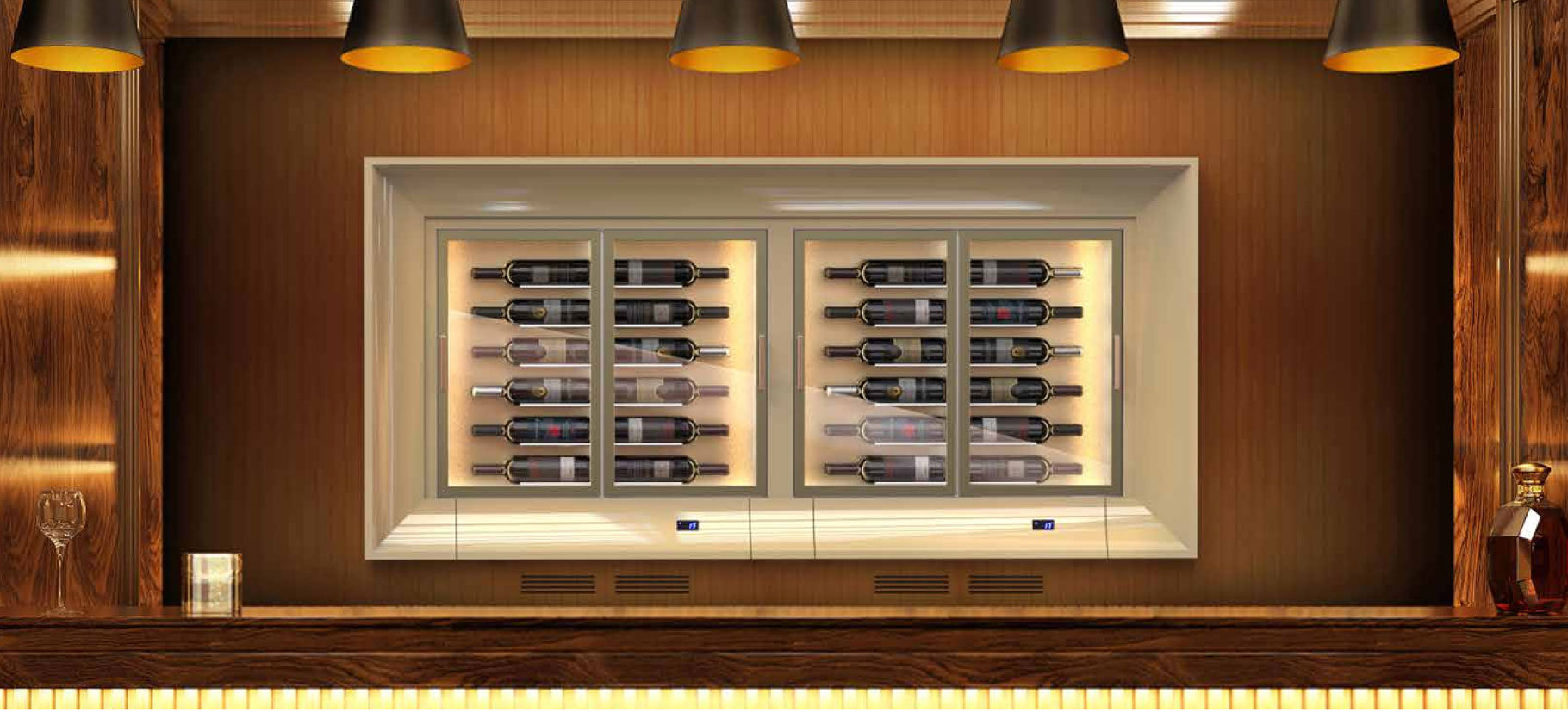 Wine Walls with Tasting Areas
A wine wall with a dedicated tasting area is the ultimate luxury for wine enthusiasts who enjoy entertaining and hosting wine tastings. These wine walls combine storage and display elements with a stylish countertop or bar area. They can include integrated wine fridges, wine racks, and glass storage, as well as a comfortable seating arrangement for wine-tasting experiences. Wine walls with tasting areas create an immersive environment, allowing homeowners and their guests to indulge in the pleasures of wine in a sophisticated and inviting setting. 
Fully Built-in and Space Saving 
Bodega Wine Cellars offers fully built-in and space-saving solutions designed to optimize wine storage while seamlessly integrating into any space. Our fully built-in wine cellars are meticulously crafted to fit into existing cabinetry or walls, providing a sleek and cohesive look that enhances the overall aesthetic of your environment. Whether you have limited space or a vast collection, our cellars can be customized to meet your specific needs. With precise temperature and humidity control, our cellars ensure the ideal storage conditions for your wines, preserving their quality and flavors. Experience the perfect blend of functionality and elegance with Bodega Wine Cellars, where efficient space utilization meets exceptional design.